Beardless Irises Are Some of the Most Useful and Beautiful for the Home Garden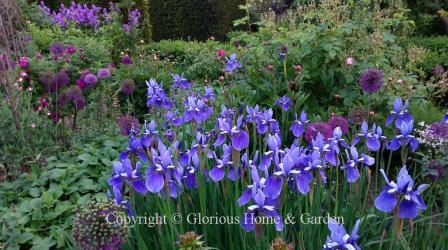 Iris sibirica
Beardless irises include the crested irises (I. cristata); Japanese irises (I. ensata); I. japonica; I laevigata; Louisiana irises; I pseudacorus; Siberian irises (I. sibirica), Japanese roof irises (I. tectorum), and native American species including I. versicolor and I virginica, and their hybrids, among others.
Iris cristata, crested iris, Zones 3-8.  The bloom period is short, but crested iris makes a lovely ground cover especially in a shady border or woodland setting.  Set out a small pot of the rhizomes and you will have a substantial clump in a couple of years.  After flowering, the short, narrow, pointed leaves are attractive and neat until disappearing for the winter.  This North American native has joined the mainstream of choice garden plants.  'Eco Bluebird' is shown.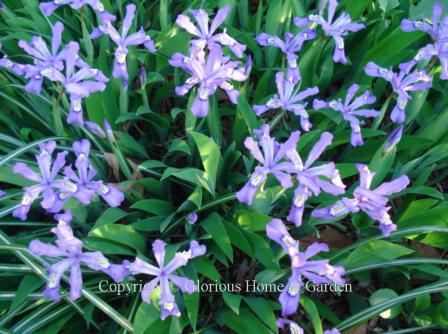 Iris cristata 'Eco Bluebird'
Iris ensata, Japanese water iris, Zones 4-9. Japanese irises are absolute divas among spring perennials!  Large, glamorous blooms dance above the foliage like exotic butterflies. To see them in full bloom is to want them, and why not?  No need to deprive your garden of such beauty!  And since they bloom after the bearded irises, they will extend the iris season in the garden blooming usually in May in the South and in June and July further north.  Iris ensata were developed in Japan from the species Iris laevigata and look very different.  Today's most popular hybrids have large blooms that open flat with overlapping petals.  There are several different forms recognized with the basic form being the simplest and most closely resembling the original species.  Form 3F has single flowers with 3 falls.  Form 6F has double flowers with all 6 petals having been developed into falls (as shown below); and Form 9-12F is very full and has more than the usual number of petals.  The color range is somewhat limited from white, white with yellow, pink, blue, purple, and violet usually with prominent veining or speckling and flashes of yellow in the petals.   Culturally, Japanese irises require ample moisture, especially around the blooming season--but are not grown directly in water--thus they are superb grown around the edges of ponds or streams.  They are heavy feeders and prefer rich, humusy soil and full sun to do their best.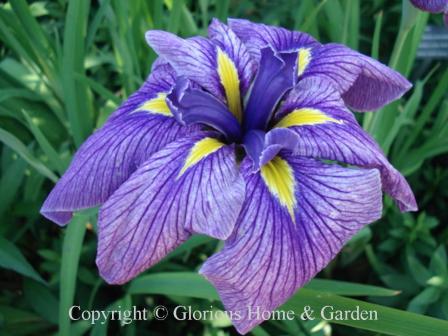 Iris ensata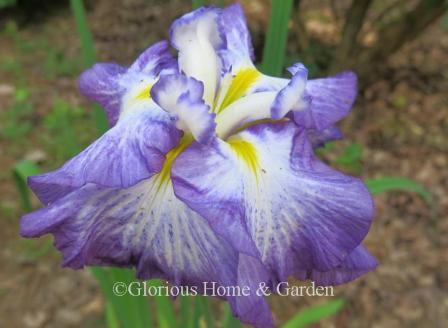 Iris ensata 'Cascade Spice'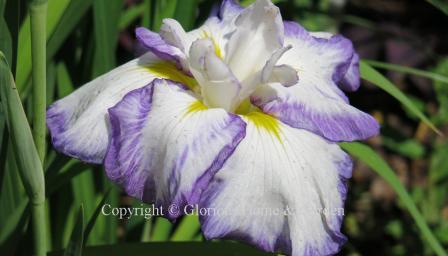 Iris ensata 'Light at Dawn'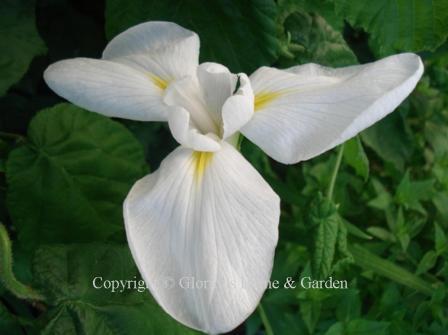 Iris ensata 'Mt. Fuji'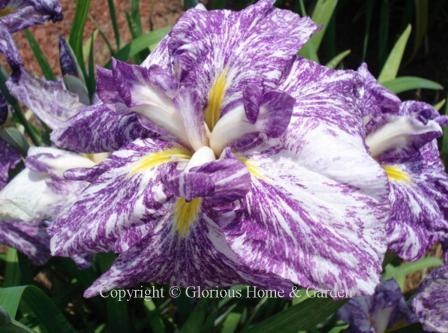 Iris ensata 'Umi Botaru'
Iris japonica, Japanese iris, Zones 7-9.  Iris japonica is a spring-blooming iris that prefers partial shade.  Siting it at the edge of a woodland would be ideal, so its adventurous roots can spread, so give it room.   
Iris japonica 'Porcelain Maiden'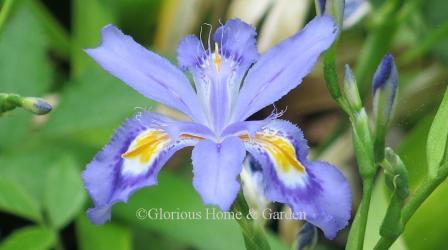 Iris japonica 'Skirt Chaser'
Iris x louisiana, Louisiana iris hybrids, Zones 4-9.  Louisiana irises were developed from North American native species, and are some of the most exciting types being hybridized today. Beautiful shades of white, yellow, coral, pink, rose, red, lavender, plum, the deepest purple and blues are available. They prefer consistently moist soil rich in humus, and partial shade.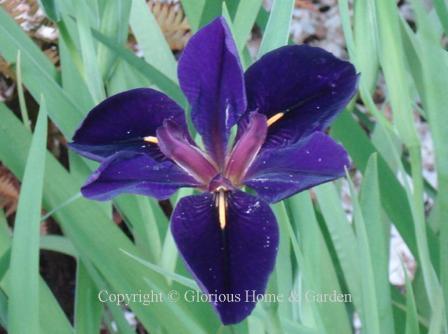 Iris x louisiana 'Black Gamecock'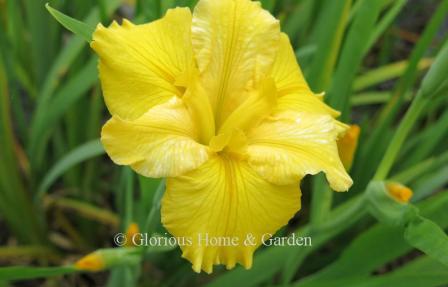 Iris x louisiana 'Brushfire Moon'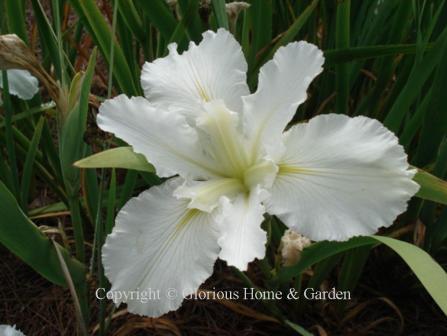 Iris x louisiana 'Dural White Butterfly'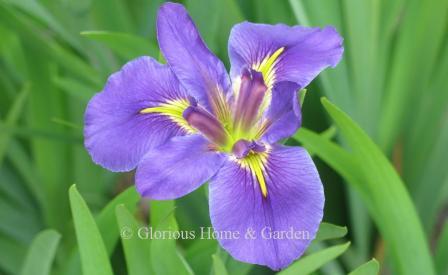 Iris x louisiana 'Geisha Eyes'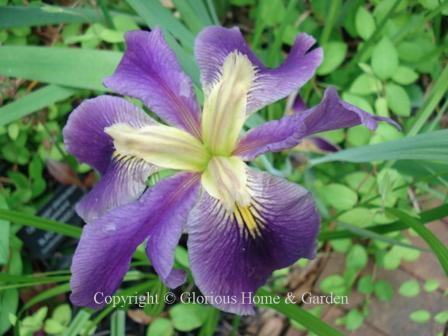 Iris x louisiana 'Hurricane Party'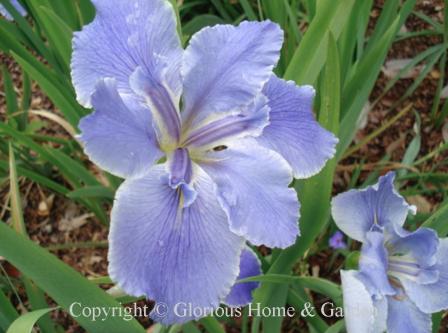 Iris louisiana 'Now and Forever'
Iris x louisiana 'Red Velvet Elvis'
Iris x nelsonii, Nelson's iris or Abbeville Reds, Zones 7-10.  An iris native to swampy wetlands near Abbeville, LA.  There are red and yellow variants.  It is similar to I. fulva, though larger, and is used in the development of Louisiana iris hybrids.
Iris pseudacorus, yellow flag iris, Zones 5-9.  A favorite for water gardens, yellow flag iris will do well near the edge of a pond or stream.  It is easy to grow, and blooms in late spring to early summer in full sun or partial shade.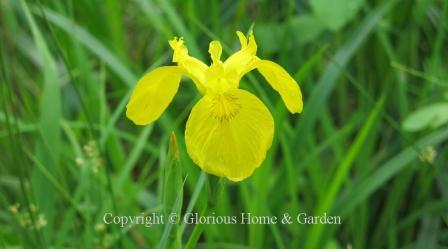 Iris pseudacorus
Iris x pseudata, Japanese water iris, eye shadow iris, Zones 4-9.  This is an interspecies cross between Iris ensata and Iris pseudacorus to introduce yellow into Japanese irises.  Some very interesting and beautiful cultivars have been created, most with the distinctive "eyelash" markings on the falls.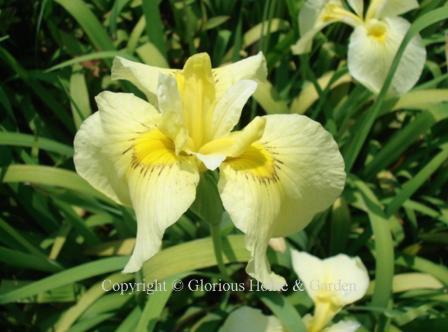 Iris x pseudata 'Aichi-no-Kagayaki'
Iris x pseudata 'Shiryukyo'
Iris x robusta, 'Gerald Darby,' Zones 4-9. 'Gerald Darby' is an excellent landscape and border iris known for its tolerance of wet soils which makes it useful for areas that stay damp, or on the edges of ponds.  Most striking are the purple leaves that emerge at the base in spring, and the dark purple, nearly black stems that rise to about 36" bearing dark violet-blue flowers.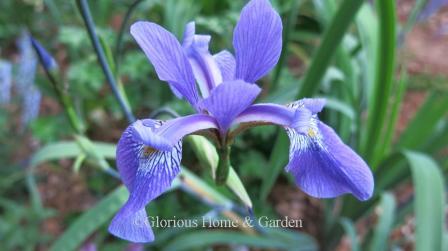 Iris x robusta 'Gerald Darby'
Iris x robusta 'Gerald Darby' foliage
---
---