Old Garden Roses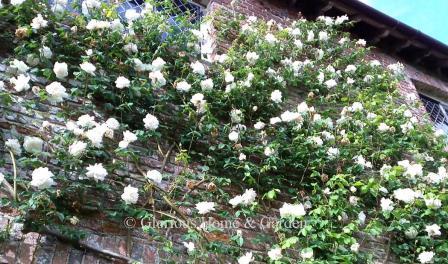 Old garden roses are the earliest hybrids developed from wild species.  They are further subdivided into groups, but all were developed before 1867 when the first hybrid tea, 'La France,' was introduced.  Many of them bloom only once in spring, but very heavily, but some such as the Autumn Damask, Bourbons, and Hybrid Perpetuals, among others, were bred to bloom for longer periods of time and even into fall.  Antique roses are enjoying a resurgence of popularity today due to their beautiful shapes, hardiness, disease resistance, and most of all intoxicating fragrance.  And gardeners have discovered that they require much less maintenance and fussing with than the Hybrid Teas, for instance.  Also, while Hybrid Teas, though possessing undoubtedly gorgeous flowers in form and color, require more care, and tend to be stiff and better suited for formal planting.  The antique roses add charm and grace in garden beds and borders in combination with perennials, annuals, and other shrubs due to their graceful habits.
Gallica Roses
Gallicas are one of the oldest groups of antique roses.  They are characterized by having few thorns, a compact habit with flowers borne on erect, firm stems, and a suckering proclivity which can develop into large colonies.  However, gallicas only bloom in spring, though for a quite long period, but their flower form, abundance of blooms and rich colors make up for that.  Colors run from all shades of pink to mauve, purple and red.  Gallica roses include 'Belle de Crécy,' violet; 'Cardinal de Richelieu,' purple; 'Charles de Mills,' rich red to mauve; 'Complicata' single pink; Rosa gallica 'Versicolor' (also called Rosa Mundi), a sport of the Apothecary's Rose, pale pink streaked with deep pink; Rosa gallica var. officinalis (Apothecary's Rose, or the Red Rose of Lancaster), deep pink; 'Tuscany Superb,' purple.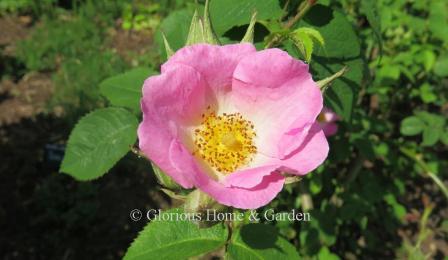 Rosa 'Complicata'
Rosa gallica 'Versicolor' or Rosa Mundi
Damask Roses

The damask rose, Rosa x damascena is a very old hybrid, derived mainly from R. gallica and R. moschata.  It has been grown from ancient times and used to make attar of roses, the essential oil used in perfumery, due to its exceptional fragrance.  As a group, the damasks bloom only in early summer (except the Autumn Damask which extends its bloom into autumn), are highly fragrant, very thorny, and disease resistant.  Other Damask hybrids include 'Celsiana,' blush pink; 'Hebe's Lip,' white w/pink edges; 'Ispahan,' clear pink; 'La Ville de Bruxelles,' pink; 'Leda' or Painted Damask, white with crimson markings on the petal tips; 'Mme. Hardy,' white; Rosa des Quatre Saisons, (Rosa x damascena var. semperflorens), called the Four Seasons Rose or Autumn Damask for its long bloom period into autumn, pink; Rosa x damascena 'Versicolor,' also called the York and Lancaster rose, blooms can be white, pink, or a combination.  Zones 4-10:
Rosa 'La Ville de Bruxelles'
Rosa 'Mme. Hardy'
Portland Damask Roses
Portland roses are a distinct group said to be derived from the Autumn Damasks because they have the late summer into autumn flowering characteristic, and excellent fragrance.  Definitely worth seeking out.  Portlands including 'Comte de Chambord,' pink; 'Duchesse de Rohan,' deep pink; 'Indigo,' purple; 'Jacques Cartier,' light pink; 'Rose de Rescht,' crimson. 
Alba Roses
Alba roses are white or very pale pink, have attractive grey-green foliage, and are highly fragrant, disease-resistant and winter hardy.  They include 'Alba Maxima' white; 'Céleste' (also called 'Celestial') soft pink; 'Félicité Parmentier,' pale pink; 'Great Maiden's Blush,' light pink; 'Queen of Denmark' (Koenigin von Danemarck), pink; 'Alba Semi-Plena' (the White Rose of York) semi-double deep pink buds open white; 'Suaveolens,' double white.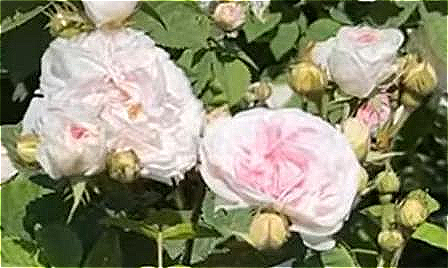 Rosa 'Felicite Parmentier'
Centifolia Roses
Centifolia Roses:  The centifolia, cabbage, or Provence rose so named for its tightly packed very fragrant blooms of up to 100 petals, is one of the most romantic of the rose classes.  The original centifolia, Rosa x centifolia, is a hybrid created by the Dutch by crossing Damask roses with others in the 16th c.  Centifolias tend to be quite thorny and have a lax, drooping habit due to the heavy flowers which adds to their charm.  Some of the centifolias also exhibit the curious fragrant "mossy" calyxes on the buds which are beautiful—see "Moss Roses" further down.  Centifolia roses include 'Bullata,' pink with unusually large leaves resembling lettuce; 'Fantin Latour,' pale pink w/darker center; 'The Bishop,' purple; 'Tour de Malakoff,' violet-red; and 'Variegata,' white striped w/pale pink.
Moss Roses
Moss Roses:  Moss roses are usually types of Albas or Centifolias which have moss-like glands on the buds which are richly fragrant. They are distinctive and romantic.  Moss roses include 'Alfred de Dalmas' (also called 'Mousseline'), pink; Crested Moss (also called 'Chapeau de Napoleon'), pink; 'Marêchal Davoust,' pink; 'Mme. de la Roche-Lambert,' crimson; 'Marie de Blois,' pink; 'Nuits de Young,' maroon-purple; 'Salet,' pink; R. muscosa 'Alba' or 'Shailer's White Moss,' white; 'William Lobb,' crimson-purple, also called "Old Velvet Moss."
Rosa muscosa 'Alba,' The New York Public Library Digital Collections, public domain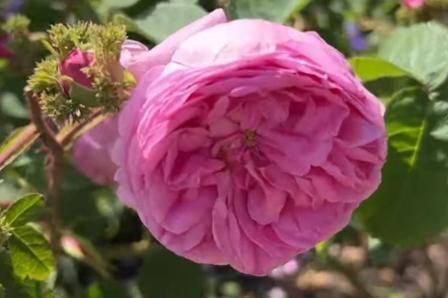 Rosa cristata, the crested moss or 'Chapeau de Napoleon'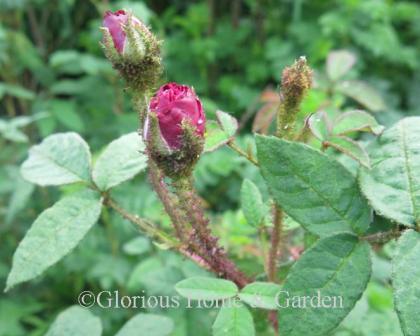 Rosa 'Nuits de Young' in bud
China Roses
China Roses:  Long ago, the Chinese started cross-breeding their native species of rose, Rosa chinensis f. spontanea, and naturally occurring hybrids, and the result was what are known today as China roses.  These new roses bloomed continuously, and were disease-resistant and long-lived.  All the repeat-flowering roses we enjoy today owe this characteristic to the early Chinas.  And unlike most other roses which fade with age, the Chinas darken with age, most notably 'Mutabilis.'  China roses include 'Archduke Charles,' pink with white; 'Bengal Beauty,' red; 'Cramoisi Supérieur,' red; 'Louis Philippe,' deep pink; and these pictured below.

Rosa 'Ducher,' Zones 7-10, is the only white China rose, though sometimes described as ivory, and may have a slight pink tinge on the outer petals, from 1869.  Grows about 3-5'.  An Earth-Kind® rose selection.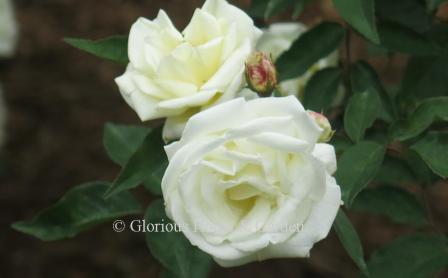 Rosa 'Ducher'
'Green Rose' (R. chinensis var.viridiflora), Zones 6-10.  A green rose?  Yes!  This is the famous "Green Rose of China," a curious oddity where what are normally petals were transformed into sepals.  As it has no flower, it makes no seed, and can only be propagated by cuttings.  Useful as an accent in flower arrangements, for drying, and in cottage gardens.
Rosa chinensis var. viridiflora
Rosa 'Mutabilis,' butterfly rose, Zones 7-8.  This rose is fascinating in that the five-petaled single flowers change color as they mature. Opening yellow, each flower goes through several "mutations" from soft yellow, to peach, to pink and dark rose.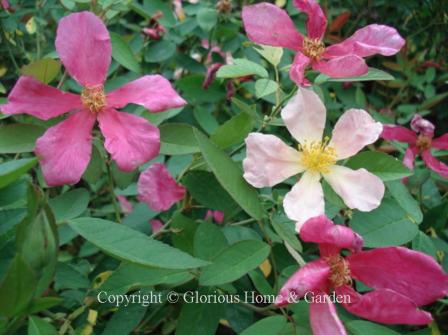 Rosa 'Mutabilis'
'Old Blush,' Zones 6-10, is a very old rose and is still extremely popular today for its long flowering period, disease resistance, fragrance, and near thornless-ness.
Rosa 'Old Blush'
'Spice,' Zones 7-10, a light pink double that grows from 3-6', has a spicy fragrance, and produces repeated flushes of blooms into fall.  A found rose, it may be 'Hume's Blush Tea-Scented China' from 1809, an ancestor of the class of Tea roses and others.  It has been chosen as an Earth-Kind® rose by the Texas AgriLife Extension Service.
Rosa 'Spice'
Bourbon Roses
The Bourbon roses came about as a happy chance cross of China roses and Damask roses on the Île Bourbon (now known as Réunion) off the coast of Africa.  From their Damask parent, the Bourbon roses inherited a divine fragrance--they rank among the most fragrant roses in the world—and from their China parent they inherited repeat blooming.  Other Bourbon roses include 'Honorine de Brabant,' pale pink streaked with rose and purple; 'Kronprincessin Viktoria,' white; 'Louise Odier,' pink; 'Mme. Isaac Pereire,' rose madder; 'Mme. Pierre Oger,' pale blush pink; 'Mystic Beauty,' light pink; 'Souvenir de la Malmaison,' blush pink; 'Souvenir de St. Anne's,' pale pink; 'Variegata di Bologna,' white flecked and striped with purple; and 'Zephirine Drouhin,' deep pink, thornless climber.
Rosa 'Mystic Beauty'
Rosa 'Souvenir de St. Anne's'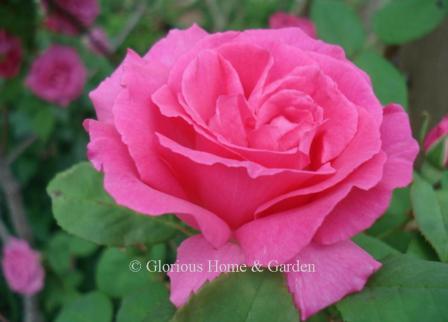 Rosa 'Zephirine Drouhin'
Hybrid Perpetual Roses
This class of roses was developed in the early to mid-19th c. from Bourbon and China roses to strengthen the repeat flowering characteristic and hardiness.  Hybrid Perpetuals were very popular until the Hybrid Teas came along and overshadowed them.  But with the recent rediscovery and excitement over the older types of roses, these are enjoying a renewed popularity.  Today.  Varieties include 'American Beauty,' deep pink; 'Baronne Prévost,' rose pink; 'Ferdinand Pichard,'pink w/crimson stripes; 'Frau Karl Druschki,' pure white; 'Marchesa Bocella,' pink; 'Paul Neyron,' rose pink; 'Reine des Violettes,' violet.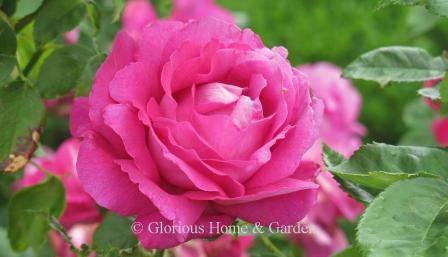 Rosa 'American Beauty'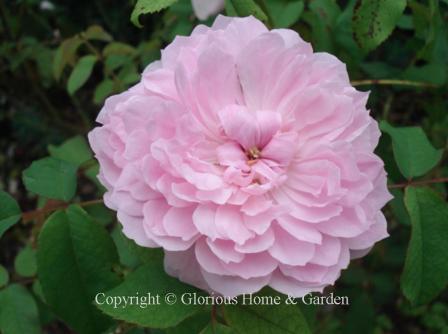 Rosa 'Marchesa Bocella'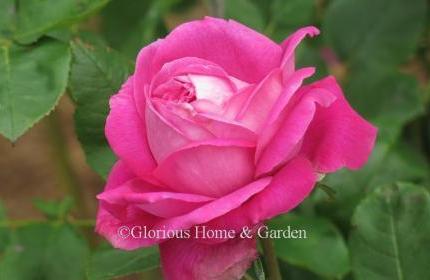 Rosa 'Paul Neyron'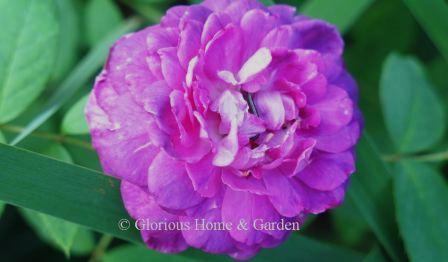 Rosa 'Reine des Violettes'
Hybrid Musk Roses
A new class of roses was created in the early 20th c. in England by the Rev. Joseph Pemberton who sought to create roses with old rose form, but a long bloom period.  Hybrid Musk roses include 'Ballerina,' small single pink w/white eye; 'Buff Beauty,' rose apricot; 'Cornelia,' soft peachy-pink; 'Felicia,' pale pink; 'Lavender Lassie,' lavender-pink; 'Penelope,' creamy pink; 'Prosperity,' white; 'Sally Holmes,' single white; 'Vanity' deep pink.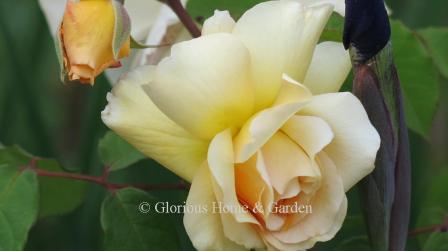 Rosa 'Buff Beauty'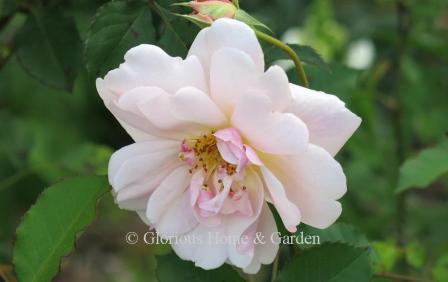 Rosa 'Fecilia'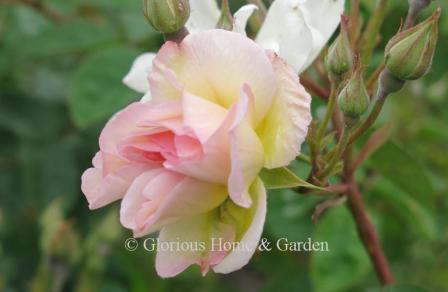 Roda 'Penelope'
Rosa 'Sally Holmes'
Hybrid Rugosa Roses
Rosa rugosa is noted for its vigor, disease resistance, adaptability to seaside conditions, and fragrance, but also for its thorniness and tendency to sucker and form colonies.  Hybridizers have attempted to create new forms using R. rugosa and other species and hybrids to retain the best qualities and minimize the less desirable ones, but it seems that prickliness and suckering are dominant traits.  However, those qualities also make them superb for barriers, erosion control, hedges, and cottage garden subjects.  They are long-blooming, have lovely fragrance, and most have exceptionally large hips that are superb for making jams and jellies.  Rugosa hybrids and derivatives include 'Agnes,' yellow; 'Blanc Double de Coubert,' white; 'Conrad Ferdinand Meyer,' light pink; 'Parfum de l'Hay,' red; 'Sarah Van Fleet,' pink; 'Sir Thomas Lipton,' white; 'Topaz Jewel,' yellow.
Rosa 'Parfum de l'Hay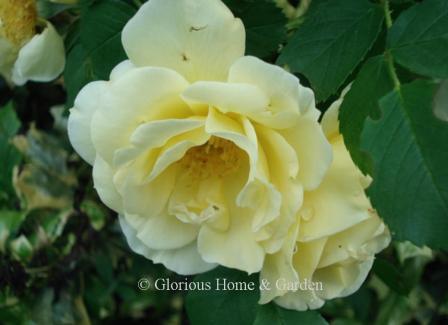 Rosa 'Topaz Jewel'
Noisette Roses
Noisettes have the interesting distinction of being the first class of roses to arise in the United States when John Champneys, a planter from Charleston crossed the popular China rose 'Old Blush' with a musk rose.  He called the result 'Champney's Pink Cluster.'  A Frenchman living in Charleston, Philippe Noisette, raised another plant from Champney's rose and called it 'Blush Noisette.'  It caused a sensation, and soon other varieties were produced often crossed with Tea roses. Noisettes can be shrubs or climbers with clusters of blooms and are noted for delicious fragrance from their musk parentage.  They are some of the most romantic roses to choose to grow on an arbor, fence or wall.  They do not tend to be as cold hardy as some other classes of roses, but they are very well suited for the southern parts of the U.S.  Noisettes include 'Blush Noisette,' pale pink; 'Celine Forestier,' creamy white; 'Champney's Pink Cluster,' pale pink; 'Crepuscule,' apricot; 'Jaune Desprez,' soft yellow with apricot; 'Lamarque,' white; 'Madame Alfred Carrière,' white; 'Reve d'Or,' yellow.
'Blush Noisette,' Zones 6-9.  4-8' wide x 8' high, blush pink, from 1814.
Rosa 'Blush Noisette'
'Crepuscule,' Zones 7-9, a climber of 8 to 12,' introduced in 1904.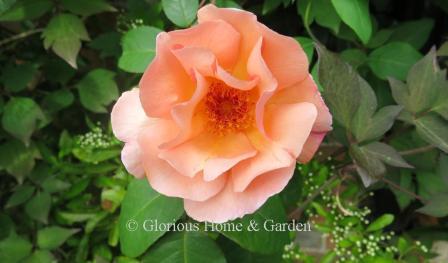 Rosa 'Crepuscule'
'Madame Alfred Carrière,' Zones 6-10, nearly thornless white climber of 15-20,' 1879.  The very first rose that Vita Sackville-West planted at Sissinghurst, where it still resides today on the brick façade of the South Cottage.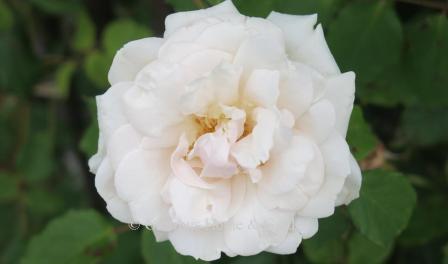 Rosa 'Madame Alfred Carriere'
'Nastarana,' Zones 7-9, opens from pink buds into semi-double white flowers lightly flushed with pink, fragrant, 3-4', 1879 from Iran.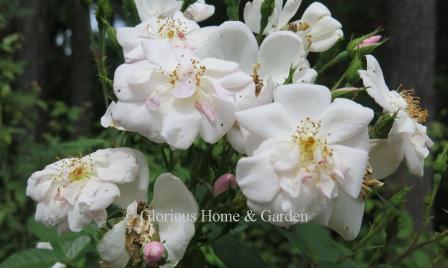 Rosa 'Nastarana'
'Reve d'Or,' Zones 7-9, a soft apricot climber to 10-18,' introduced in 1869.
Rosa 'Reve d'Or'
Tea Roses
Tea Roses:  Tea roses were developed in the early 19th c. from crosses between Rosa gigantea, which contributed scent and large flowers, and Rosa chinensis, which provided repeat blooming capability.  Both species come from China.  The main issue with Tea roses is that they are not reliably cold-hardy; however, they are very well suited to the Southern states.  The Hybrid Teas beginning from 1867, which were cold-hardy, became immensely popular and resulted in the decline in popularity of the Teas.  Still, many Teas are appreciated today for their scent, large blooms, good disease resistance, and attractiveness as garden plants.  Some Tea rose varieties include 'Adam,' salmon-pink; 'Duchesse de Brabant,' pink; 'Francis Dubreuil,' red; 'Lady Hillingdon,' yellow; 'Maman Cochet,' pale pink w/yellow; 'Mrs. B. R. Cant,' deep rose; 'Mrs. Dudley Cross,' pale yellow flushed pink; 'Rubens,' white with pink shading; 'Sombreuil Climbing,' white.
'Mrs. Dudley Cross,' Zones 7-11, a nearly thornless shrub of about 3-6,' introduced in 1907.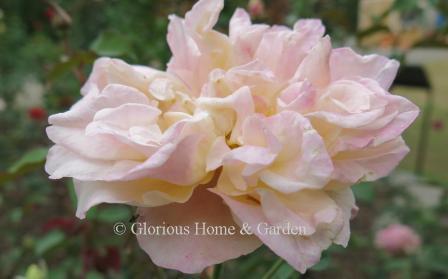 Rosa 'Mrs. Dudley Cross'
'Rubens,' Zones 7-11, a shrub of 4-5,' from 1859.
Rosa 'Rubens'
'Sombreuil,' Zones 6-11, a climbing tea rose of 8-15,' from 1880.  There is also a bush form, Mlle. de Sombreuil.'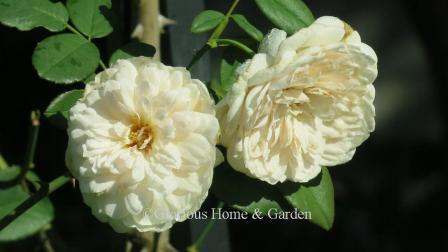 Rosa 'Sombreuil'
---
---