Spring Flowering Shrubs Offer a Symphony of Color, Form and Scent for Your Spring Garden
Spring flowering shrubs (and trees) are the first things you
should plant in your garden.  They are the permanent foundation of your garden and will form the main structure and framework.  The beauty of shrubs is that they grow and develop to blooming size fairly quickly, so you will be able to enjoy them that much sooner, and you will enjoy watching your carefully planned garden grow from a barren site with potential  to a personal paradise in a few short years .  If you are starting from scratch, you have the opportunity to include spring flowering shrubs to delight you from the end of winter until the onset of summer.  If you are revitalizing an existing garden, decide where you need to add color, a screen, or just something new to enjoy in the springtime.  So choose your favorites, or have fun learning about some new ones!

Things to Consider When Planning Your Spring Flowering Shrubs
Location.  What is the purpose or use of the shrub?  Is it to be a specimen to enjoy for its unique beauty?  If so, choose a spot where it can be easily admired from a window or from the street.  Do you need to screen an unsightly view?  Choose a shrub or group of shrubs that will reach a size to hide it.  Location also includes consideration of a shrub's cultural requirements--

whether it needs fast drainage, regular moisture, full sun or partial shade.  Place shrubs so their mature size will not overwhelm their neighbors.  Do decide on a location and research the best choices for the location before heading for the nursery.  Also consider how the shrub will look and blend in when out of flower.  Some spring flowering shrubs, like lilacs, are gorgeous in bloom, but not necessarily interesting out of bloom.

Size.  Give careful consideration to the eventual size of your spring flowering shrubs--some of them can get quite large, even small tree size--and you don't want to have to constantly prune them back, or even remove them.  If a shrub is crowding out its neighbors, covering windows, or blocking walkways or a view, then it is probably the wrong choice for the location.  

Bloom Time.  We are talking spring flowering shrubs here, so there are so many great choices, you can have something in bloom throughout the season.  Have something for early spring like a winterhazel or forsythia to bloom with early bulbs.  Add plenty of your favorites for the main thrust of the season like azaleas, lilacs and viburnums; and transition into summer with later-blooming shrubs like gardenias, hydrangeas, and rhododendrons.

Cultural Requirements.  Do consider the cultural needs of




shrubs when making your choices.  For instance, if you have a very shady lot, you will have much greater success if you choose plants that will thrive with, and even require, less sun.  Grouping plants with similar cultural requirements will make it easier to provide for their needs, and they are natural companions for each other. 

Color.  This is the fun part!  Choose colors for your spring flowering shrubs that you find pleasing, but take into consideration their juxtapositions with other plants.  If several shrubs are blooming at the same time, are their colors harmonious?  Do the colors enhance the house and the overall landscape?  Many of us fall into the "I love the color, I'll find a place for it" syndrome at the nursery.   Taking pictures of your garden at different times of year will remind you of what you have and help you choose new additions ahead of time. 

Texture.  Textural differences in leaf shape, size and color, fineness and coarseness, softness and stiffness will make for a much more interesting garden.  

Deciduous vs. Evergreen.  Whether you choose a deciduous or evergreen spring flowering shrub will often depend of where and how it is to be used.  If you are choosing foundation plants, for instance, and you know you want azaleas, then you would probably choose evergreen types so they will look good all year around.  F

or a shrub border, or in a mixed perennial border, a selection of deciduous and evergreen shrubs is fun to do and adds four-season interest to the garden.





Here is a list of spring flowering shrubs to get you started!



Abeliophyllum distichum, Korean abelialeaf, Zones 5-8.   This white flowering shrub is often mistaken for a white blooming forsythia, and often blooms along with it from late winter into early spring depending on location.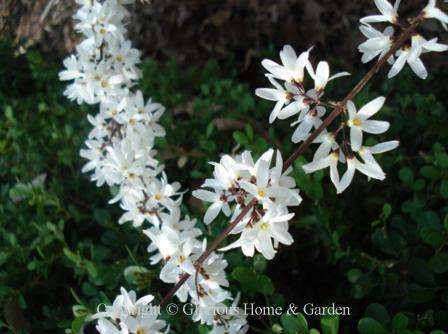 Abeliophyllum distichum
Aesculus pavia, red buckeye, Zones 6-9.   Handsome in bloom with its large panicles of pinkish-red tubular flowers produced at the ends of the branches, this native shrub or small tree is eye-catching in spring.  Plant it in full sun for best flower production, but give it sufficient room for it can reach 10 to 20' high with greater spread.  Hummingbird attractant.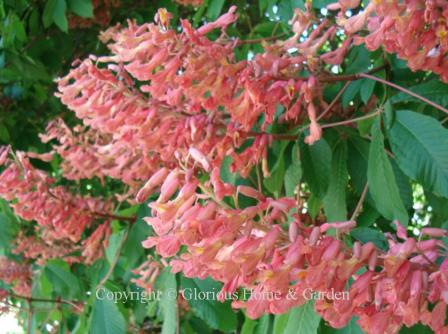 Aesculus pavia
Azaleas
Azaleas are included in the genus Rhododendron.   There are
evergreen and deciduous ones, and so many different hybrids and cultivars have been developed that the only thing to do is to visit local nurseries and gardens in your area to see them in bloom in order to choose your favorites. Shown below in order:  'Coral Bells,' a Kurume hybrid, 'Judge Solomon,' an "Imperial Family" hybrid from Monrovia, and 'Koromo Shikibu' with spidery lavender petals.  Click here to go to Rhododendrons and Azaleas page.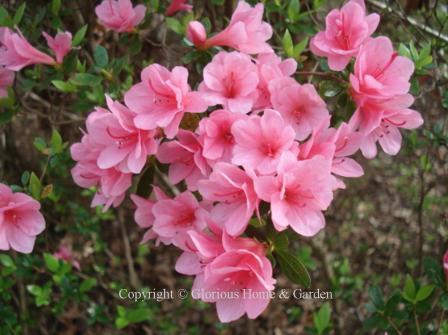 Azalea 'Coral Bells'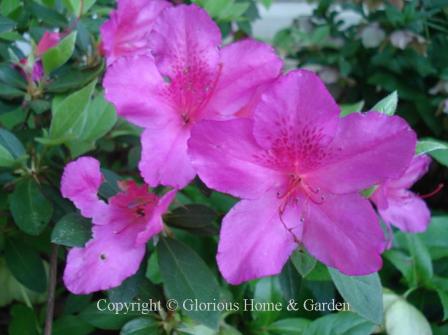 Azalea 'Judge Solomon'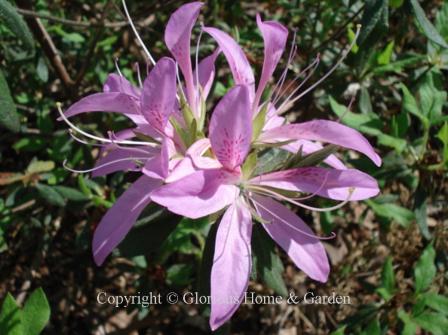 Azalea 'Koromo Shikibu'
Calycanthus - Sweetshrubs

Calycanthus floridus, sweetshrub, Zones 4-9.   This spring-
flowering shrub is known by many names--sweetshrub, Carolina allspice and spicebush to name a few--but whatever you call it, it has a delightful  fragrance and charming multi-petaled flowers in a deep maroon red.  A couple of good red cultivars are 'Edith Wilder' and 'Michael Lindsay.'  There is also a yellow-flowered variety called 'Athens.'  Mysteriously, not all sweetshrubs are fragrant.  To ensure you get a fragrant one, it's best to experience one in flower at the nursery.  Native to the southeastern U.S.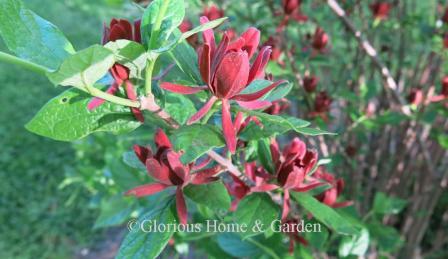 Calycanthus floridus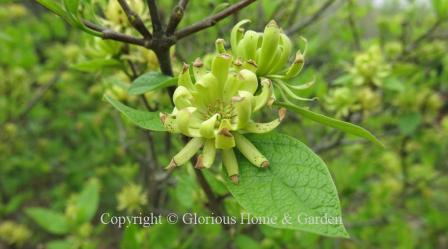 Calycanthus floridus 'Athens'
Calycanthus occidentalis, California sweetshrub or California allspice, Zones 6-9.  Calycanthus occidentalis is the western cousin of Calycanthus floridus.  It is redder in color, though not as fragrant, and opens outward water-lily like while C. floridus tends to be incurved.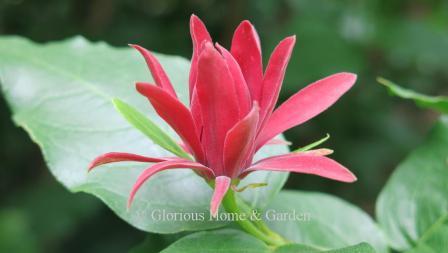 Calycanthus occidentalis
Calycanthus raulstonii  'Hartlage Wine,' hybrid sweetshrub, Zones 7-8.  This shrub is an intergenetic cross between our native Calycanthus floridus, sweetshrub and Sinocalycanthus chinensis, or Chinese wax plant, combining the best traits of both parents--the deep red of C. floridus, softened to a rich rosy wine, and the larger blooms, broader petals and larger leaves of C. chinensis--to a gorgeous effect.  Unfortunately, it's not fragrant, but that is a small negative given the lovely flowers.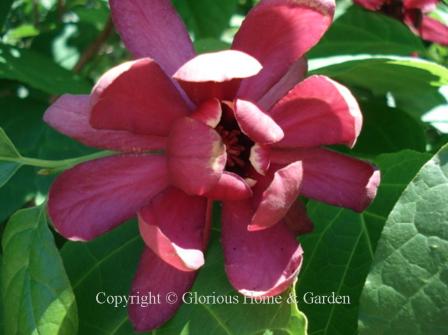 Calycanthus raulstonii 'Hartlage Wine'
Calycanthus hybrids, Zones 5-9.  Other crosses have been made between calycanthus species resulting in some very lovely and interesting shrubs for the garden.  'Aphrodite.' a cross between C. chinensis and C. occidentalis , is redder than 'Hartlage Wine' and the flowers are redolent of applies--and the bark and leaves are scented, too!  This shrub begins blooming in late spring and continues intermittently throughout the summer into fall.  It can get quite large, about 7', so give it room in a full sun or partially shady location.
'Venus' is another lovely hybrid in creamy white with purple center.  It, too, is fragrant in all parts, and also reaches about 7'.

Calycanthus x 'Aphrodite'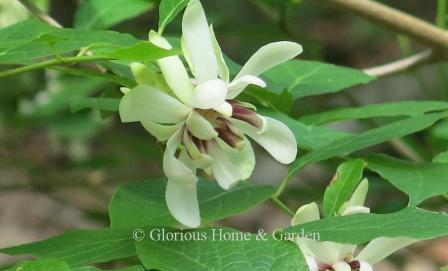 Calycanthus x 'Venus'
Sinocalycanthus chinensis, Chinese wax plant, Zones 7-8.   One of the parents of Calycanthus raulstonii 'Hartlage Wine' above, Chinese wax plant is lovely in its own right with white flowers suffused with pink (but not fragrant), and large dark green leaves.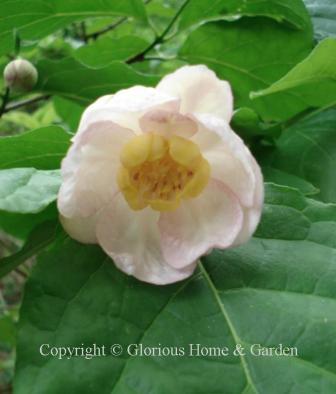 Camellia japonica

Camellia japonica, Japanese camellia, Zones 7-9.  Camellia
japonicas span the season from late winter into spring.  They are
among the most beautiful of spring flowering shrubs, but do best in the warmest zones of the country.  Some hybrids, such as 'Governor Mouton' are more cold hardy than others.  Check your local nursery for specific varieties for your area.  There are too many beautiful cultivars to name, but click here for a few choice ones.  'Carter's Sunburst' is shown below.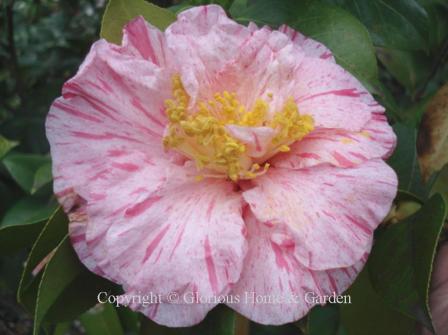 Camellia japonica 'Carter's Sunburst'
Cornus alternifolia, pagoda dogwood, Zones 3-7.  Pagoda dogwood is named for the naturally spreading habit of its branching giving it a tiered effect.  Used as a large shrub or small tree with an eventual height of 15 to 25,' it is a good choice for a partially shaded area.  White flowers appear in clusters in spring.  The cultivar 'Golden Shadows®' has variegated leaves edged in gold and is particularly effective to light up an otherwise dim corner of the garden.  'Argentea' has white variegated leaves.  Best in areas with cooler summers.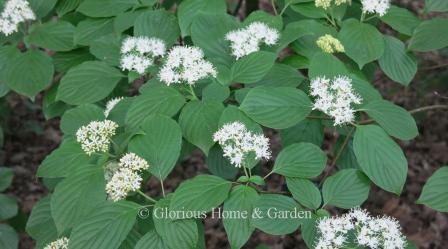 Cornus alternifolia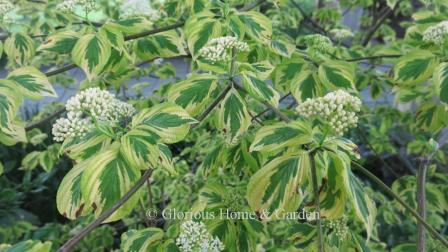 Cornus alternifolia 'Golden Shadows'
Winterhazels
Corylopsis glabrescens, fragrant winterhazel, Zones 5-8. 
Pendulous clusters of yellow flowers appear in March on a large
shrub that can reach 15.'  This species is considered the hardiest.
Corylopsis pauciflora, buttercup winterhazel, Zones 6-8.  Of all the winterhazels, this one is the most delicate in appearance, and its smaller size (about 6') fits in well in limited spaces.  It is lovely in a woodland setting surrounded by hellebores and early spring bulbs.  The small, pale yellow fragrant flowers are charming.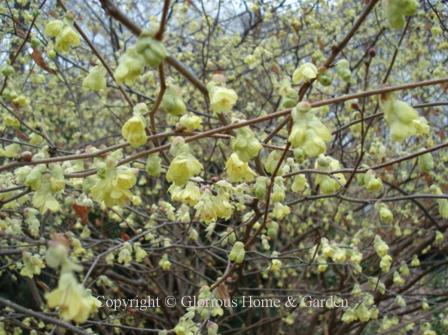 Corylopsis pauciflora
Corylopsis sinensis var. sinensis, Willmott winterhazel, Zones 6-
7.  This is a beautiful shrub with slightly greenish, long clusters of fragrant pale flowers with red-tipped anthers which open from large brown buds that resemble hazelnuts.  This one can get to be a large, multi-stemmed shrub of 12' or more, so is better suited to a larger property, but can be pruned to a small tree.  Any of the winterhazels would make a lovely addition to the early spring shrub border or as a hedge or specimen.  I like the pale yellow of the winterhazels vs. the stronger yellow-gold of forsythia, for instance, but they both have their uses.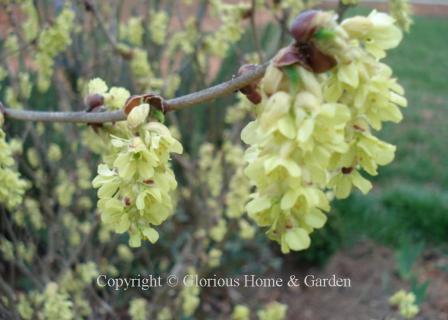 Corylopsis sinensis var. sinensis
Corylopsis spicata, spike winterhazel, Zones 5-8.   Similar to Willmott winterhazel above, but a more manageable size of 4-6'. Spike winterhazel has lovely soft yellow fragrant pendulous racemes of flowers in early-mid spring. 
Corylopsis spicata
Corylus avellana 'Contorta,' Harry Lauder's Walking Stick or contorted filbert, Zones 4-8.  This is a great fun shrub to grow because of the curiously twisting and corkscrewing branches (great for flower arrangements).  Long pendulous yellow catkins (also twisted) emerge in March and last a long time.  There is also a marvelous new cultivar called 'Red Dragon' with red/purple new foliage that fades to green.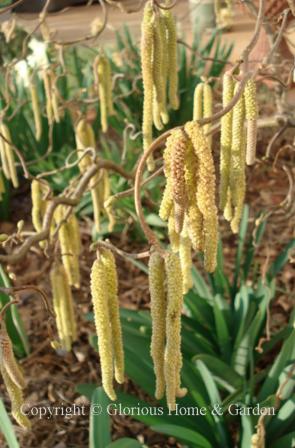 Corylus avellana
Corylus avellana 'Red Dragon'
Cotinus coggygria, smokebush, Zones 5-8.  A shrub or small tree, smokebush is one of the most unusual plants in bloom with the effect of clouds of smoke among the leaves.  The actual flowers are small and insignificant, but they produce fine hair-like filaments that create the smoky effect.  There are green and purple-leaved forms.  The cultivar, 'Grace,' a purple-leaved one, is pictured at the Atlanta Botanical Garden.  Other popular cultivars are 'Daydream,' a green-leaved one; and 'Royal Purple,' self-explanatory.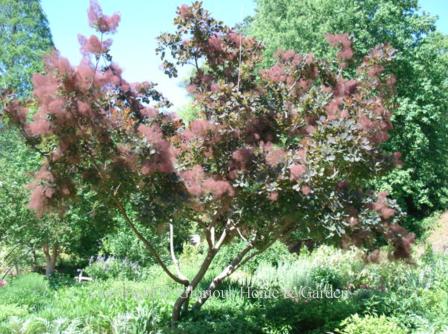 Cotinus coggygria 'Grace'
Daphnes
Daphne cneorum, rose daphne, Zones 4-7.   This low evergreen shrub makes a lovely ground cover and is smothered in fragrant pink or white flowers in spring.  It is somewhat fussy as to conditions and prefers part shade, moist, well-drained humusy soil  and cooler temperatures--so best for the northeast.
Daphne x burkwoodii, Burkwood daphne, Zones 4-6.  One of the
loveliest of the spring flowering shrubs is 'Carol Mackie,' a
Burkwood clone with variegated foliage and fragrant flowers that are pale pink in bud and open to white.  Like many daphnes, however, these tend to be short-lived.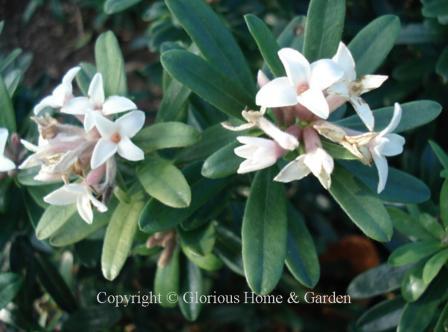 Daphne x burkwoodii 'Somerset'
Daphne genkwa, lilac daphne, Zones 5-7.  I was visiting the Smith
-Gilbert Gardens in Kennesaw, Georgia and came across this daphne in full bloom.  Gorgeous color, but lacks the fragrance of other daphne species.  Still this deciduous species from China is a spectacular spring flowering shrub.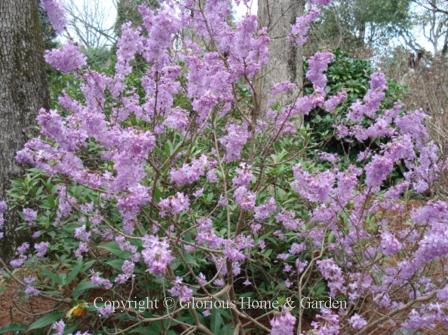 Daphne genkwa
Deutzia rubens, white deutzia, Zones 6-8.   I was very impressed
with this shrub when I saw it in full bloom at the J. C. Raulston
Arboretum in Raleigh, N.C. in late April.  It was literally
smothered in white double bell-shaped pure white flowers dripping from the tips of the branches.  Fallen petals covered the ground like snow.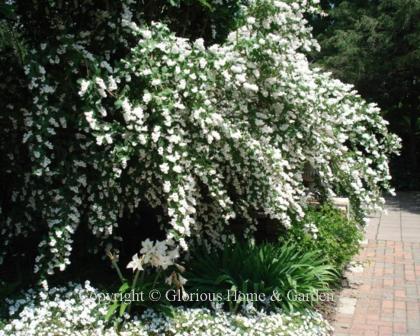 Deutzia rubens
Deutzia scabra, fuzzy deutzia, Zones 5-8.  This is an old-fashioned shrub that is not in vogue, but perhaps it should be.   It is a good choice for a shady border, and it blooms itself silly smothering itself with pure white fringe-y flowers.  Quite lovely, really.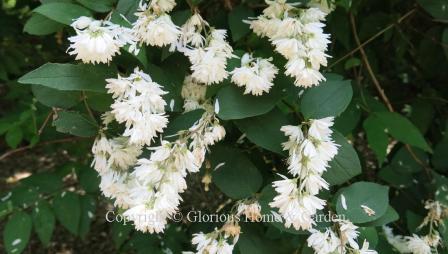 Deutzia scabra 'Pride of Rochester'
Enkianthus campanulatus, redvein enkianthus, Zones 5-7.  Clusters of creamy bell-shaped flowers veined with red (hence the name) form at the tips of the branches.  Enjoys the same soil and growing conditions as rhododendrons.  Best in the cooler climates of the northeast and the Pacific northwest.
Enkianthus campanulatus
Exochorda racemosa, common pearlbush, Zones 4-8.  Lovely as a bride!  Round buds resemble pearls and swell like little
balloonflowers opening to showy five-petaled pure white flowers. 
Curious five-lobed seedpods in the fall resemble star anise.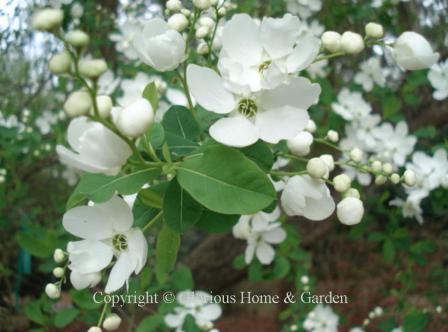 Exochorda racemosa
---
Click here for spring flowering shrubs F - P.

Click here for spring flowering shrubs R - Z.
---